In the US, more than half a million Americans die each year because of a heart condition. Around a third of that value is due to heart attacks and cardiac arrest. Despite millions of Americans being trained each year in CPR and first aid, the mortality rate of out-of-hospital cardiac arrests remains very high. More than 70 percent of trained respondents answered that they felt uncomfortable or lacked confidence tending to a victim who fell unconscious and might possible have had a heart attack. This needs to change.
Taking training to a whole new level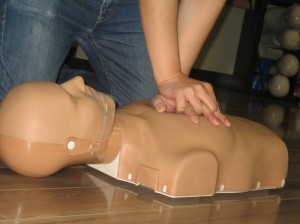 CPR and first aid training is more than simply learning something in a single session without actually performing the skills. At our training providers in the US, our lessons have theoretical and practical parts. We cover basic knowledge building for the first hour or so, with the rest of the time being spent practicing the skills and techniques learned on their fellow trainees and the latest CPR and first aid training equipment.
Aside from knowledge and skill building, we teach all our students about the importance of learning CPR and using their learned skills to help someone. Cardiac arrest mortality rates are very high because bystanders are only comfortable calling for help instead of performing immediate CPR themselves. If CPR is performed within the first five to ten minutes after a heart attack, it can double or triple a person's chances of survival. This statistic is important, and our trainees are all aware of it.
American CPR courses and first aid training
Because we want our trainees to be well-rounded, we include basic first aid skills in all our courses – particularly the basic CPR courses. First aid skills for common emergencies like bleeding and fractures are just some of the things we include in our first aid lessons. A variety of different injuries are covered, such as burns, bruises, bee stings, and concussions.
Our CPR courses fall under basic or advanced training. Basic courses focus on core skills: (1) compression, (2) ventilation, and (3) defibrillation. Advanced courses (which are longer and take two day to complete) focus on medical management skills – medication administration, equipment use, and the like.
Basic training
Heartsaver – basic CPR and AED for the public (4 hours)
Heartsaver C – basic CPR and AED for health care providers (4.5 hours)
Basic Life Support for Providers – one and two-person rescue for health care providers (4.5 hours)*
Advanced training
Pediatric Advanced Life Support – medical management of children (14 hours)*
Advanced Cardiac Life Support – medical management of adults (16 hours)*
Courses with an asterisk next to it have re-certification available.
CPR and first aid credentials
Certificates have a period of validity of 24 months, before the trainee needs to sign up for a re-certification class. If your training credential expires before you are able to renew it, you will have to take the training program again.