Fact Checked
One of the main reasons why first aid classes are important is that it provides students with information that they need to in order to handle head injuries appropriately. Head injuries are one of the most fatal injuries since a single mistake can lead to the development of a fracture or damage in the skull that can lead to almost imminent death. This is why it is important for rescuers to learn about the different facts about head injuries that first aid classes will most likely tackle. Here are some of these facts.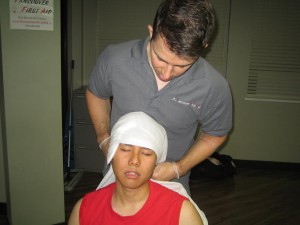 Record-taking is very important
After ensuring that the individual is breathing and that a pulse is present, rescuers should jot down notes that are relevant to the situation whenever they can. These notes can help doctors determine the extent of the individual's injuries which will make it easier for them to administer the right medical interventions. Taking note of any yellowish discharges which may come from the different openings in the head such as the nose or ear before wiping it off informs the doctor that there is cerebrospinal fluid (CSF) leakage. Writing down the last known memory of the patient after the accident confirms the absence or presence of retrograde amnesia which is one of the major signs of extensive brain damage.
Subjective cues are also helpful
Even though it is normal for accident or injury victims to report pain and other types of subjective discomforts in several areas of their body, taking note of headaches, fatigue, nausea and double vision can save the life of the victim. Individuals who seem fine but are exhibiting these mild and subjective symptoms may be suffering from severe head trauma which causes this lucid state.
First aid classes encompasses more topics
At a hindsight, it is easy to assume that head traumas are easy to handle. However, this could not be farther from the truth. Aside from the several types of head traumas or injuries, its extend also require different medical interventions. By signing up for first aid classes, students can learn about these types of head traumas or injuries as well as the appropriate medical interventions for different cases. Students will also be able to learn about the other information that should be written down if head trauma is evident or suspected. They will learn about the common mistakes that can worsen a head injury.
[youtube url="http://www.youtube.com/watch?v=OqDdLUi7kkA" width="400″ height="220″]