Fact Checked
Overview on vomiting
Vomiting is managed by the brain, not the stomach as many people may think, but most incidents are produced by food-related illnesses or mild tummy viruses. It can transpire with or without nausea, and can result in excessive drooling. Vomiting poses no immediate risk, but it can result in dehydration. Re-hydration must be completed to prevent another situation where the stomach empties its contents. In a few cases, vomiting can be a symptom of a bigger problem.
Steps to follow
Step 1
First, you have to wait until the vomiting stops. If you still feel sick, there is a possibility you might vomit again after consuming liquids. Give your tummy some time again to settle.
Step 2
Drink 1 teaspoon of cool, clear fluid such as water, tea, or a sports drink. If you think you might be able to endure something sweet, drink some ginger ale; the ginger might also assist by calming your tummy.
Step 3
Take 1 teaspoon of cool clear fluid every 10 minutes. If it is staying down, then try to take 1 tablespoon every 30 minutes.
Step 4
Increase the quantity you drink gradually and stop at the first sign of vomiting. Once you have been drinking small amounts of liquids successfully for about 1 hour, fill a tiny glass with your cool, clear drink of choice and swallow it slowly.
Step 5
Stand straight up while drinking fluids. Otherwise, you might fall asleep and throw up, which can be dangerous if it enters or obstructs your airway.
Step 6
Stay away from food until you have been drinking fluids for 6 hours with no vomiting. Then, start chewing on tiny amounts of bland foods like crackers.
Causes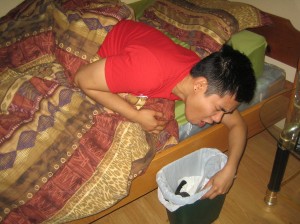 Nervousness or anxiety;
Stomach virus;
Mental illnesses;
Reaction to allergies;
Swelling; and
Overindulging.
Warnings
If you believe the vomiting is caused by consuming a chemical or digesting too many tablets, call the medical services immediately. Don't throw the chemical's container away. Keep it so you can show the GP precisely what chemical you consumed.
Do not leave the casualty by themselves if they are not completely conscious as they might choke on their vomit which will obstruct the airway.
Guidelines
Phone your doctor if the vomiting carries on for more than 24 hours and is accompanied by a severe headache.
Always keep in mind to re-hydrate the casualty because it can lead to severe dryness, low blood pressure, and anaphylactic shock.
Is it serious?
Normally, vomiting is harmless, but it can be a warning of a more severe sickness. Some examples of severe conditions that can lead to vomiting include  meningitis or concussions.
Related video
https://www.youtube.com/watch?v=3vgKq7TcDYo
FACT CHECK
https://www.healthline.com/symptom/vomiting
https://www.webmd.com/digestive-disorders/digestive-diseases-nausea-vomiting#1
https://www.nhsinform.scot/illnesses-and-conditions/stomach-liver-and-gastrointestinal-tract/vomiting-in-adults