Fact Checked
What is Back Pain?
Temporary, severe pain in the region of the back.
Shows that the body is suffering from strain.
 Causes Of Back Pain – Problems in: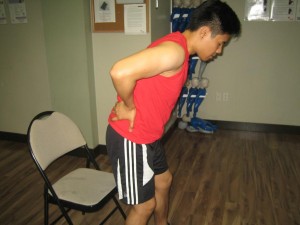 Bones and tendons within the spine.
Nerves and muscles in the back.
 Back pain can be activated by
Bad posture.
Unsuitable shoes.
Improper walking habits.
Extended sitting.
Sleeping on soft mattresses
Bladder, kidney or prostate disorders.
Pregnancy.
Constipation.
Anxiety.
Applying First Aid For Back Pain
Rest in a comfy position.
Smear on an ice pack to the affected region.
Sedatives or relaxants can be used to reduce pain.
Avoid physical workouts.
Avoid cushions.
Avoid laying on mattresses which are soft and provide no support.
 Treatment For Back Pain
You can make use of anti-inflammatory medications.
You can rub the affected area with cold or hot packs.
Traction.
You can use a Transcutaneous Electrical Nerve Stimulator (TENS).
Simple aerobics on a regular basis can assist with back pain.
Refer to an Orthopedician if:
a. The pain continues.
b. There is any strain when urinating.
c. Lack of feeling in the toes, legs or feet.
Prevention Of Back Pain
You need to ensure you have a proper posture.
Try not to smoke as this can make the pain even worse.
Try not to stretch your body too far as you could sprain a ligament.
Try to decrease anxiety or any strain.
Make sure you take sufficient breaks when you are at work.
Make sure your lower back is supported and always sit in a straight position.
Use comfy shoes that don't have high heels as this can place pressure on the back.
Make sure you do exercises that involve stretching.
Related Video On Back Pain