Fact Checked
Knowing how to deal with anaphylactic shock through first aid classes is highly beneficial not just for medical providers, but also for ordinary people who have no formal medical training. Learning this skill helps them save the lives of their loved ones as well as the lives of strangers who might be afflicted by this medical condition. Here are some of the facts that you need to know in order to learn the importance of taking first aid classes to handle extreme allergic reactions or anaphylactic shock.
What is Anaphylactic Shock?
Anaphylactic shock is one of the most common medical conditions in the entire world because of its many types and causes. Anaphylactic shock, otherwise known as allergies, is an extreme allergic reaction to an antigen which can come from different sources. Oftentimes, extreme allergic reactions are life threatening since it can inhibit the normal function of vital organs such as the heart and lungs. This medical condition can also slowly bring the functions of these organs to a full stop when left untreated. This is why immediate reaction is necessary when one is being suspected of suffering from an allergic reaction.
[youtube url="http://www.youtube.com/watch?v=b-87XDNeoGI" width="400″ height="220″]
How Common Anaphylactic Shock?
Every person who has an allergy to anything is highly susceptible to anaphylactic shock. According to the data that was released by the American Academy of Allergy Asthma and Immunology in 2010, the number of people who have allergies is very high not just in the United States but also in other countries. Through their data, it was revealed that 10-30% of people all over the world are suffering from allergic rhinitis and that 40% of the world's total population are sensitive to some form of an antibody. Another alarming part of the study is the fact that 40-50% of school children are allergic to something.
What Would Taking First Aid Classes Do?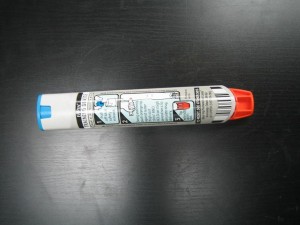 Taking these types of classes can teach you how to administer epinephrine
and other anti-allergy medications properly to an individual who is currently suffering from anaphylactic shock. These classes will teach you CPR and other life-saving techniques which may be required after the administration of these medications to ensure survival without compromising the individual's quality of life after taking the anti-allergy medications. Through these classes, you can save the lives of people who are suffering from mild to severe allergic reactions at any given time.