Las Vegas CPR makes getting certified in Las Vegas for CPR and first aid as easy as signing up and completing the class with no absences. We have different courses offered, focused on basic and advanced CPR/first aid training. Because all our courses are very affordable, trainees constantly choose Las Vegas CPR to get certified – so sign up for a class early! We have online forms on the Las Vegas CPR website, as well as e-mail addresses and telephone numbers if you wish to contact us.
If you want to enroll in person, we highly encourage it! Just make sure to visit us during our regular business hours.
To defibrillate or not to defibrillate?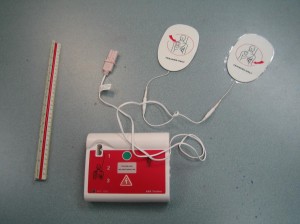 Defibrillation is a common element in life or death situations in movies and on TV, where a person whose heart suddenly stops is shocked back to life. The truth is far from what we see in media. Defibrillation is actually only used during severe arrhythmia – NOT flatline, or medically called asystole. In defibrillation, electric shock is sent to the heart in order to return the heart to a normal rhythm (normal sinus rhythm).
Defibrillation is given through the use of an AED – automated external defibrillator. The AED sends a specific amount of electricity to the heart, a higher voltage for adults and a lower voltage for children. The electricity travels from the AED through pads placed on the chest to the heart. Defibrillation is never done on a person who is experiencing asystole.
CPR and first aid courses
At Las Vegas CPR, we have basic CPR/first aid and advanced CPR/first aid available, as well as re-certification classes.
Basic Life Support CPR/first aid
Heartsaver CPR/first aid – This is our only general public class; it runs for 4 hours and has no re-certification class available
Heartsaver CPR/AED C – This is program (for HCPs – health care providers) has the same curriculum as the first Heartsaver course, but tailored for health care providers; it runs for 4.5 hours
Basic Life Support for HCPs – This basic course teaches both one and two-rescuer CPR (Heartsaver courses only teach one-rescuer CPR), as well as the latest BLS guidelines from the AHA; it runs for 4.5 hours
Advanced Life Support CPR/first aid
Compared to the basic courses, both ALS courses focus on medical management instead of the basics. The courses have the same curriculum structure, but one is for the management of adults and the other is for the management of children (pediatric cases/patients).
Advanced Cardiac Life Support – This program is 16 hours long over two days; it teaches the medical management of adult patients
Pediatric Advanced Life support – This program is 14 hours long over two days; it teaches the medical management of pediatric patients
All courses are certification programs; we award two-year certificates to students who have complete attendance and passed the certification exam (post-test).