Fact Checked
Pneumothorax is a condition where a lung has collapsed due to the air that enters the space around the lungs. This results to the disruption of the pressure that keeps the lung in its proper form. This can be brought about by a chest injuries, medical procedures or impairment by an underlying lung condition. Pneumothorax can also suddenly occur without any reason. Symptoms include a sudden chest pain and a shortness of breath. In some cases, a collapsed lung can be a life-threatening event.
The treatment for pneumothorax is usually the removal of excess air in the chest by insertion of a flexible tube or needle amidst the ribs. A small pneumothorax can, however, heal on its own.
What are the indications?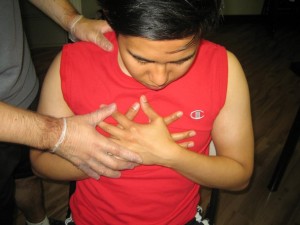 The main signs of pneumothorax include sudden chest pain accompanied by breathing difficulty, but these signs can also be brought about by various health problems, some of which are life-threatening. If the symptoms worsen and breathing becomes difficult, seek medical care immediately.
What are the causes of pneumothorax?
Pneumothorax can be due to numerous reasons; these include:
A blunt or piercing chest injury can cause a lung collapse. These kinds of injuries can happen during physical assaults or automobile accidents. A medical procedure that involves the insertion of a needle into the chest may also be a cause.
A lung disease where damaged lung tissue is more likely to collapse. This can be due to various types of underlying ailments such as chronic obstructive pulmonary disease, pneumonia and cystic fibrosis.
A ruptured air blister can also cause the condition as small air blisters (also known as blebs) can develop on top of a lung and burst which allows air to leak into the space that surrounds the lungs.
The use of mechanical ventilation can cause pneumothorax as it can cause an imbalance of air pressure within the chest which may potentially cause a lung to collapse completely.
The complications that pneumothorax can give is that anyone who has sustained a collapsed lung has an increased risk of having another one. Air can also continue to leak if the opening in the lung if there is no seal where surgery may be necessary to close the air leak.
FACT CHECK
https://en.wikipedia.org/wiki/Pneumothorax
https://www.medicinenet.com/pneumothorax/article.htm
https://www.mayoclinic.org/diseases-conditions/pneumothorax/symptoms-causes/syc-20350367