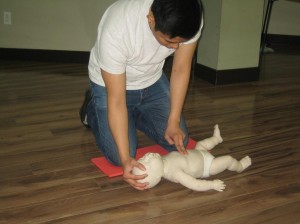 Looking for quality first aid training? The leading provider of WorkSafe BC, workplace and academic approved first aid and/or CPR training in Surrey, B.C. is Vancouver First Aid. This training provider has two large classrooms one located in Newton and the other located in Whalley. Individuals from all walks of life attend these courses in order to meet employment purposes and to learn the skills to save a life. This provider offers occupational first aid level 1 training, two-day standard first aid, stand-alone CPR, food safety certification, and online safety training. Registration for any course can be completed through a variety of means including online chat, the website, telephone, or email. All contact information is posted below. Register for a low-priced, high-quality first aid and/or CPR course in Surrey using the details posted below.
Register For a Course in Surrey Here
To register for a food-safe, first aid, or safety course in Surrey, B.C. uses the following contact information:
Telephone: 1-888-870-7002
Email: info@vancouverfirstaid.ca
Website: http://vancouverfirstaid.ca
Customer service representatives are available from 7 am to 5 pm to aid with registration or to answer any questions you may have.
Training Location
The main training location for first aid classes in Surrey is at 7238 137 St Surrey, BC V3W 1A4. This classroom is situated in the heart of Surrey-Newton and provides a comfortable and convenient learning atmosphere.

Cost of Training Courses in Surrey
This provider is known for having the lowest / cheapest prices in Surrey. Check out the following course prices:
Occupational First Aid Level 1 – 79.99
Standard First Aid, CPR, and AED – 136.99
Emergency First Aid, CPR, and AED – 79.99
Childcare First Aid, CPR, and AED – 79.99
All course prices include tax, certification fees, and a take-home manual.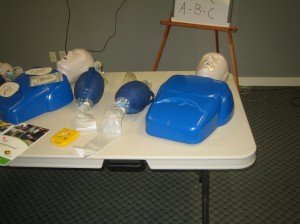 What CPR Training is Available?
All first aid training includes cardiopulmonary resuscitation training. However, participants that only require CPR certification may attend stand-alone CPR programs including:
CPR level "A" and AED – 50.00
CPR level "C" and AED – 60.00
CPR level "HCP" and AED – 65.00
Basic Life Support (BLS) – 55.00
Course prices include tax and CPR manual. Certification from these courses is valid throughout Canada for 3 years.
Are Re-Certifications Available?
Participants that need to renew expiring certificates can attend the following re-certification courses in Surrey:
Standard first aid, CPR, and AED Re-Certification – 74.99
CPR level "C" and AED Re-Certification – 35.00
CPR level "HCP" and AED Re-Certification  – 49.99
Prior to registering for a re-certification course participants must have a current, nationally approved award.
What Other Courses Are Available in First Aid Classes in Surrey?
Participants may also register for the following programs in Surrey
Babysitting first aid
WHMIS Training
TDG Training
MSDS Training
Food Safe Level 1
Food Safe Level 2
These courses are available in classroom format or online via the website.
Who Needs First Aid Training in Surrey?
A large number of people are required to have first aid and/or CPR certification in the workplace. Here's a sample of some of the people that need certification:
Teachers
Caregivers
Security Guards
Massage Therapists
Police Officers
Lifeguards
Government Workers
Oil and Gas Workers
Miners
Construction Workers
Industrial workers
Restaurant Employees
Dentists
Students
Nurses
To find out what course you need you can use the contact information provided above.
Did You Know?
Bladder stones are caused by high levels of minerals in the urine, creating mineral deposits known as "stones". A person can be asymptomatic if the stones are small enough but bigger stones cause different problems for the kidneys, bladder, and urinary tracts. The following conditions can contribute to or directly cause the formation of bladder stones:
Prostate gland enlargement compresses the urethra, causing urine retention in the bladder. Stones can eventually form if the urine remains in the bladder for long periods of time.
A neurogenic bladder or a bladder with damaged nerves doesn't detect fullness, causing retention. Being unable to adequately contract and relax the muscles of the bladder to empty it can cause urine to remain in the bladder and form stones.