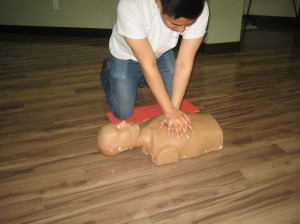 Do you need Alberta OH&S-approved first aid and CPR certification? Do you need to attend a one or two-day course that includes CPR and automated external defibrillator training? Register with Calgary First Aid and get certified with the most experienced and cheapest provider in Alberta. Register for a wide range of courses including Enform H2S alive, food safety, WHMIS, standard, emergency, and childcare first aid. Some courses, including TDG and fire safety, are available online at a self-paced schedule. Learn to manage emergencies such as poisons, burns, heart attacks, hypoglycemia, hyperglycemia, hypothermia, stroke, broken bones, fractures, open fractures, anaphylaxis, and more by enrolling in a two-day standard first aid course.  Private training is also available with this provider. To register for a public course in one of the two training centers available in Calgary or to inquire about a private course use the contact information posted below.
Provider Information and Contact Details about Calgary First Aid
This provider allows trainees to register for first aid classes through a variety of methods including telephone, e-mails, or walk-ins. You can use the following contact details to register with Calgary First Aid.
Website: http://www.firstaidcalgary.ca
Telephone: 587-774-5317
Email: info@firstaidcourses.ca
Address: Suite 102, 750 – 11th Street SW, Calgary, AB T2P 3N7
The main training center is located in SW Calgary. This location offers easy access to public transit and includes a new light rail transit station (C-Train) directly across the street from the facility. Limited free parking is also available within walking distance. For more information or details about this location, refer to the map below.
CPR/AED Training
CPR/AED training classes are inclusive of basic first aid and AED training. There are three levels that cater to different age groups of victims: adults and children. CPR A only teaches CPR to adult victims. CPR C and HCP teach both adult and pediatric CPR but HCP is targeted more toward those who work in healthcare.
While all first aid classes include CPR training, there are also stand-alone CPR-only classes available that do not include first aid training.
Calgary First Aid Training
All first aid classes include CPR and AED training. The following are the most popular Alberta OH&S approved courses available in Calgary:
Standard first aid
Emergency first aid
Childcare first aid
Safety Courses in Calgary First Aid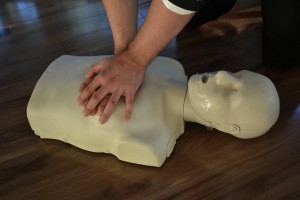 A number of workplace safety courses are also available including:
H2S Alive Training
Food Safety Certification
Transportation of Dangerous Goods
Confined Space Entry
Material Safety Data Sheets
Fire Safety
Oxygen Administration
To register for one of the above-mentioned courses use the contact information provided above.
Certification
Trainees who are able to pass a training course are awarded an Alberta OH&S workplace-approved training certificate for first aid, CPR, and AED, valid for three years.
Course rates
Calgary First Aid offers the cheapest training course rates in the area. Rates are inclusive of taxes, certificates, and workplace-approved registration fees. Training manuals and equipment are also included in the initial enrolment fee, with freebies such as pocket mask key chains given to trainees as a bonus. Full refunds are also given to trainees who do not complete the training course and drop out, provided a 72-hour notice is given.
Facilities
Calgary First Aid training centers are high-end and complete with the latest AED trainers, mannequins, and other first-aid training equipment. Classrooms and training rooms are spacious and air-conditioned to provide trainees with the best learning experience possible.
Did You Know?
Head injuries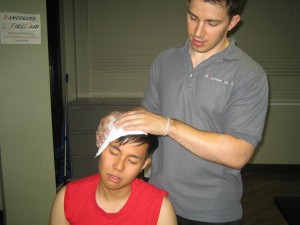 Symptoms of possible neurological emergencies after a head injury such as falling down or hitting your head:
Nausea and vomiting
Blurring of vision
Headaches
Difficulty speaking
Numbness, tingling sensation, or weakness
Bladder and bowel dysfunction
Seizures
Personality and level of consciousness changes (sleepiness, tiredness)
Victims of head injuries should be aroused frequently and prevented from falling asleep.