The largest and most popular provider of safety, food handling, and first aid classes in the Toronto metropolitan area are Toronto First Aid. Learn to recognize and manage emergencies that include hypoglycemia, allergic reactions, infant choking, broken bones, concussions, hypothermia, embedded objects, fractures, seizures, poisonings, and many more. The most popular basic training program is standard first aid which comes standard with CPR level "C" (CPR for victims of all ages) and automated external defibrillator training. Other popular courses include babysitting training, emergency first aid, childcare first aid, stand-alone CPR and AED, online WHMIS, and food handling courses. For a complete list of low-priced and high-quality courses available with Toronto First Aid and to find the next course use the contact information provided below.
Registration and Inquiries
To register for a course, inquire about available courses use the following information
Toll-Free Telephone Number: 1-888-870-7002
Email: info@firstaidservices.ca
Website: torontofirstaidcpr.ca
Customer representatives are friendly and courteous. They are available to take your call from 7 am to 6 pm every day. Online registration is available at any time on the Toronto First Aid website.
What Will I Learn in a First Aid Classes in Toronto?
Participants that enroll in Ontario WSIB-approved first aid and CPR training will learn about the recognition and management of
Partially and fully obstructed airways
Heart Attacks
Angina
Stroke
Deadly internal and external bleeding
Head and neck injuries
Spinal injuries
Hypothermia
Allergic Reactions
Cardiac Arrest
Heat Exhaustion
Seizures
Poisonings
Hypoglycemia
Hyperglycaemia
Embedded objects
Amputations
Allergic Reactions
Eye injuries
Sprains
Strains
Transient Ischemic Attacks
Hyperventilation
Learn about these topics and more by enrolling in a first aid course today.
Why Choose Toronto First Aid?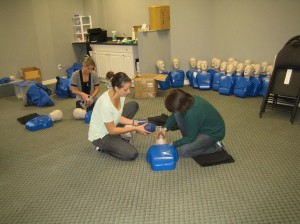 Here are the top 10 reasons why you should register with Toronto First Aid:
Nobody offers more training programs
Nobody has lower prices
Certification meets Ontario WSIB requirements
Certification is valid throughout Canada for 3 years
Instructors are experienced, knowledgeable, and fun
Registration is available any time online or you can register in person or by phone
This provider is experienced and offers courses throughout Canada
Re-certifications and private courses are also available
The latest equipment and training techniques are used to provide you with a great learning experience
Free parking and great access to public transit
Instructors can come to you for private courses
Register for a course today and see what Toronto First Aid has to offer.
Enrolling in a program
Enrolment is hassle-free with this provider. Signing up can be done using the application form or through e-mail on the internet. Telephone calls and walk-ins are also encouraged by the Toronto First Aid staff, as long as the business is done during business hours. All the fees are settled during enrolment (or before training begins, if enrolment was done online) as well.
The total fees include tuition, taxes, certificates, manuals, and registration fees (with the workplace approved). If a student drops out, a full refund is given to him or her, as long as the provider was notified at least 3-days before dropping out.
Take a peek into a training lesson with Toronto First Aid below.
Did You Know?
Bladder stones
Bladder stones are mineral deposits that are "stone-shaped" and can be found in the bladder. They are created when there are high levels of minerals such as calcium found in the urine. While stones can be small enough to be asymptomatic, when they get big enough to block urine flow through the ureters and/or urethra, the following symptoms are often experienced:
Abdominal pain (typically in the lower abdomen)
Flank pain (lower back; only during kidney involvement)
Dysuria (pain during urination)
Frequent urination
Retention (feeling of fullness after urination)
Hematuria (blood in the urine)