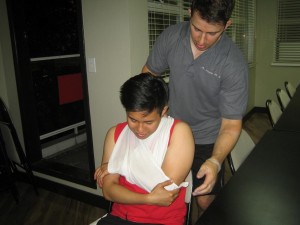 Are you looking for low price, high quality Ontario WSIB approved first aid classes in Hamilton, Ontario? Customers that register with Hamilton First Aid have the option of registering for a number of workplace approved courses that are offered at convenient, clean and well-maintained locations. Learn the latest CPR standards which are included in every first aid course. Participants can also register for re-certification courses to renew awards. Individuals looking to strengthen their resume's can also register for on-line safety programs such as Workplace Hazardous Material Information System (WHMIS) courses. Food safety and pet first aid classes are also available. Courses are the lowest prices in Hamilton and certification meets workplace and academic requirements. Certification length for WSIB approved courses is 3 years throughout Canada. To register for a course or to inquire about the first aid, food safe and safety services available with this provider use the contact information posted below.
Signing up for Hamilton First Aid classes
Because of the great offers at this provider – the high quality training for affordable rates – there is always an influx of students each year that sign up for first aid training programs. With this in mind, Hamilton First Aid has provided prospective trainees in the area a number of different ways to sign up for a program. Students can sign up through one of these ways:
In-person at the training facility.
Through telephone call: 1-888-870-7002 (Toll Free)
E-mail: info@firstaidcourses.ca
On-line chat or on-line registration available at the website: http://www.firstaidcprhamilton.ca
Any business in person or through telephone call will only be entertained during business hours; the same goes for replies to requests sent through e-mail and the application form on the website. If you have any questions, feel free to contact the staff and they will be glad to help you.
Who in Hamilton Needs First Aid Training?
A wide range of participants attend training courses with this Ontario provider. Here's a list of some of the people that attend training with Hamilton First Aid:
Petroleum Workers
Miners
Health Care Professionals
Oil and Gas Employees
Teachers
Coaches
Fitness Workers
Government Employees
Restaurant Employees
Caregivers
Childcare / Daycare workers
Physiotherapists
Doctors
Nurses
Chiropractors
Medical School Students
Nursing Students
Massage Therapists
Pharmacists
Fire Fighters
Life-guards
Security Guards
Police Officers
CBSA Officers
RCMP Officers
Find out what course you need by using the contact information above.
Beginning Your First Aid and CPR Training
There are two kinds of programs students can enrol in at Hamilton First Aid, CPR classes and first aid classes. The first aid program is a two-day program that runs for 14-16 hours in total. The program curriculum actually includes cardiopulmonary resuscitation (CPR) and automated external defibrillation (AED) training. Other topics included in the curriculum are:
Bandaging and dressing
Splinting
Managing ABC injuries – injuries that compromise the airway, breathing, and circulation
The second type of program is a CPR-only training program. There are three categories for students:
CPR A – four hours, teaches CPR for adult victims
CPR C – five hours, teaching CPR for adult and pediatric victims (infants, toddlers, school-age children)
CPR HCP – six hours, for health care providers, teaching CPR for adult and pediatric victims
Certification
Once a student passes the enrolled program, a workplace approved training certificate is awarded to him or her. The certificate is wallet-sized but bigger certificates can be requested. After three years, certificates have to be revalidated through recertification programs. Students are advised to sign up for recertification before the expiration of the certificate because Hamilton First Aid does not renew expired certificates.
Did You Know?
Bladder stones
Bladder stones are caused by high concentration of minerals in the urine, creating stone-like deposits in the bladder and urinary tracts that can cause different problems. If the stones are small, your physician can just advise you to drink a lot of water to help the stones pass through your urine. However, bigger stones often have to be broken apart or removed surgically.