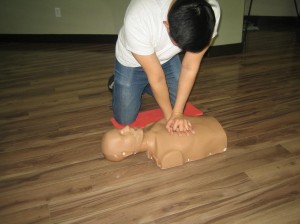 Edmonton First Aid has become the premier training service provider in the area. Prospective trainees can enrol in a number of courses including standard, emergency, babysitting, and childcare first aid. CPR training courses are the most popular programs and come in three different levels. Other classes such as CPR-only, private, and refresher classes are also available for enrolment. To register for first aid classes in Edmonton use the contact information provided below.
Register for first aid classes in Edmonton by using the form below.  Learn life saving skills and the latest standards in CPR as provided by the International Liaison Committee on Resuscitation (ILCOR) and the American Heat Association. Standard, emergency and childcare first aid certificates meet Alberta OH&S requirements. Participants may also register for on-line safety courses, food safety certification, pet first aid, babysitting training and many more. Use the contact information below to register for a course in Edmonton or to find a course that meets your needs.
Request for First Aid Classes in Edmonton
Provider Information and Contacts
Telephone: 780-809-0829
Email: info@firstaidcpredmonton.ca
Address: Suite 200 7915 – 104 Street, Edmonton, Alberta, T6E 6M6
Website: http://firstaidcpredmonton.ca
Check out the following map of the training centre in Old Strathcona in Edmonton
Top Reasons Why Edmonton First Aid is The Best Training Service Provider in The Area
Edmonton First Aid offers the most competitive training course rates in the area. Rates are the lowest compared to other service providers, and include tuition, taxes, certification and registration. Training manuals and equipment are also included in the initial enrolment fee.
Full refunds are given to trainees who choose to drop out, as long as they provide a three-day notice beforehand.
Edmonton First Aid offers the largest number of training courses and private classes at various dates, times and locations throughout the week.
All training courses are taught by workplace approved certified instructors who are the best in their given fields of expertise.
Trainees who are able to complete a training course will receive a workplace approved certificate valid for three years throughout Canada.
Training facilities are well-maintained, with spacious and air-conditioned classrooms. The centers are equipped with the latest technology used in first aid and CPR training.
You can register via telephone, email, on-line or in person
A huge list of courses are displayed on the Edmonton First Aid website.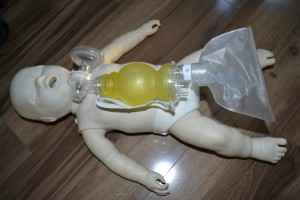 CPR Training
Three different CPR courses are available for participants. The following is a breakdown of available CPR courses and prices:
CPR level "A" – Basic CPR and AED rescue techniques for adult victims only – 4 hours long – 73.99
CPR level "C" – Comprehensive CPR and AED rescue techniques for victims of all ages – 5 hours – 73.99
CPR level "HCP" – CPR level "C" for health care providers – 6 hours – 73.99
Use the registration details posted above to find a course that fits your schedule.
Basic First Aid
Basic first aid classes are focused on first aid skill development for a variety of health emergencies. One of the specialized first aid training received by trainees at Toronto First Aid is seizure management. Seizures are caused by uncontrollable electrical impulses in the brain that can manifest as physical tics such as lip smacking or repetitive hand movements to grand mal seizure activity. Knowing how to prevent the victim from injuring himself, safety precautions are taught in Edmonton First Aid's basic first aid class. The following is a breakdown of prices and length of OH&S approved first aid classes in Edmonton:
Standard first aid, CPR level "A", "C" or "HCP" – 132.99 (two day course)
Emergency first aid, CPR level "A", "C" or "HCP" – 89.99  (one day course)
Standard childcare first aid, CPR level "B" and AED – 134.99 (two day course)
Registration details for these courses are posted above.
Additional Courses Available
Customers may also register for the following courses with this provider:
Basic Life Support (BLS)
Advanced Cardiovascular Life Support (ACLS)
Pediatric Advanced Life Support (PALS)
Babysitting First Aid
On-Line WHMIS Training
On-Line Fire Safety Training
Food Safety Certification (Alberta Provincially Approved)
Visit the Edmonton First Aid website to view all available courses and private programs.
Did You Know?
Seizure precautions
Oxygen, suctioning, and IV access available (in a hospital setting)
Side rails up at all times
Turn to side to prevent injury and aspiration
Do not restrain the victim
Put something soft such as a small pillow or blanket underneath the head
Do not place anything inside the mouth
Loosen clothing
Clear the area around the seizing victim
If the person is on a bed, assist without restraining to prevent a fall injury
If the person is sitting, place him or her on the floor
Record how long the seizure lasted and description of the seizure
Enrol in a training course with Edmonton First Aid today!