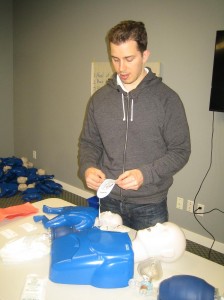 Victoria First Aid has been the leader in first aid training, services, supplies, and private programs on Vancouver Island since early 2008. Customers enjoy the low prices, great facilities, fun & interactive teachers, and the overall experience provided by this company. A wide range of courses is available including WorkSafe BC-approved occupational first aid level 1, standard first aid, food safe level 1, babysitting training, online WHMIS training, re-certifications, and private courses. Typical participants include health care professionals, oil workers, gas workers, construction workers, miners, caregivers, teachers, police officers, CBSA officers, security guards, fire-fighters, students, and nurses. If you do not know what course you need or if you have any questions about registration or course schedules use the Victoria First Aid contact information posted below.
Registration Information
To register for a course or to inquire about private classes, services, or online training available with Victoria First Aid use the following contact details:
Email: info@firstaidcourses.ca
Telephone: 1-888-870-7002
Website Address: www.firstaidcprvictoria.ca
What Courses Are Available in Victoria First Aid?
One factor that makes this provider one of the most popular on Vancouver Island is the number of courses that are available. Here's a list of available courses with this provider:
WorkSafe BC approved occupational first aid level 1 (OFA level 1)
Standard first aid, CPR, and AED
Childcare first aid, CPR level "B" and AED
Emergency first aid, CPR and AED
CPR and AED (Only)
Basic Life Support (BLS)
Advanced Life Support (ALS)
Babysitting Training
Food safe level 1 (B.C. approved)
Food safe level 2 (B.C. approved)
WHMIS
MSDS
Fire Safety
H2S Awareness
H2S Alive
TDG
For more information about these courses, view the schedule or to register using the contact information posted above.
What Will I Learn in a Victoria First Aid Course?
Participants that enroll in standard two-day training will learn about the following topics:
When and how to contact EMS when bystanders are and are not present
Effective CPR and AED rescue techniques
Recognition and management of choking victims
Recognition and management of circulatory emergencies such as bleeding, heart attacks, stroke, and angina
Recognition and management of breathing emergencies such as obstructed airways, asthma, hyperventilation, shock, and anaphylaxis
Recognition and management of muscular and skeletal emergencies including broken bones, sprains, dislocations, strains, spinal and fractures
Recognition and management of sudden and environmental emergencies such as seizures, hypothermia, heat stroke, poisonings, and heat cramps.
Legal implications of first aid and CPR
How to be prepared for emergencies
These topics and many more are covered in the two-day standard first aid course.
Are Private Classes Available?
Yes, private classes are available for a wide range of courses. Private first aid courses are incredibly popular for businesses and companies. Competitive rates are available. To book a private course or to receive a quote using the contact information posted above.
Start your training now with the lesson below.
Did You Know?
Bladder stones
Bladder stones are made up of mineral deposits in the urine because of high levels of the deposits in the urine. They can be made up of different minerals, the most common being calcium deposits. These stones vary in size and can be asymptomatic until they are detected through diagnostic exams like ultrasounds. If the stones do become symptomatic, it can be because they have affected the function of the bladder or the kidneys – becoming lodged in the urethra or ureters. Typical symptoms include retention and dysuria (painful urination).