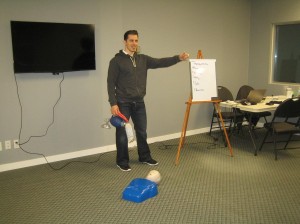 Get certified in Ontario WSIB approved first aid and CPR by taking a course with Ottawa First Aid. This Canadian approved provider has been offering courses in Ontario since 2008 and has the most competitive rates in the city. Great reviews, a high volume of courses, a wide selection of programs and conveniently located training centres makes Ottawa First Aid the most popular provider in the city. A wide range of courses are available including standard first aid, emergency first aid, CPR level "C", CPR level "HCP", oxygen administration, H2S Alive, Food Handling certification, WHMIS, TDG and fire safety. Strengthen your resume, boost your career and learn life saving rescue and workplace safety skills by taking a course today. Registration for a food handling, safety or first aid course with this provider can be completed using the contact information posted below.
Registration and Contact Information
To register for any course with this provider or inquire about private courses and other services available use the following contact information.
Customer service representatives are available from 7 am to 7 pm Monday through to Sunday. On-line registration is available 24 hours a day.
About Ottawa First Aid
The top 6 Reasons to register with Ottawa First Aid:
Ottawa First Aid offers the cheapest rates for all offered training courses, with taxes, certificates, workplace approved registration, training manuals, and use of equipment included in the initial enrolment fee.

Epi (epinephrine) pen used during anaphylactic allergic reactions.

Trainees who drop out of a course are entitled to a full refund, provided a 72-hour notice is given.
Trainees receive a workplace approved certificate valid for three years throughout Canada upon completion of a training course.
Course instructors are all certified by St Mark James. They are known for being very welcoming and friendly so don't hesitate to ask them questions.
All training facilities with Ottawa First Aid are clean, well-maintained and comfortable. The training centers are easily accessible, within walking distance to public transportation and free parking. A number of restaurants are also within walking distance of the facilities.
No other training service provider in Ottawa offers more training courses.
Who Needs First Aid and CPR Training in Ottawa?
People from all walks of life are required or choose to take a first aid and CPR course. Here's a brief list of some of the backgrounds of first aid course attendants:
RCMP officers
Police officers
Security guards
CBSA officers
Health Care Professionals
Scuba Diving Instructors
Teachers
Doctors
Nurses
Medical School Students
Caregivers
Childcare workers
Fitness Centre Employees
Fitness Instructors
Coaches
Construction Workers
Miners
Oil and Gas Employees
Restaurant Owners
Office workers
Paramedics
Life-guards
Fire-fighters
Find out what course you need by using the contact information posted above.
Did You Know?
Basic first aid: CPR
Cardiopulmonary resuscitation (CPR) is done during cardiac arrest (when the heart stops beating or there is no discernable pulse) to restore spontaneous circulation. The American Heart Association (AHA) has these following guidelines for rescuers:
Untrained or previously trained (if don't remember proper steps/skills) rescuers.Hands-only CPR is done or chest compressions of 100 per minute until the arrival of paramedics or trained rescuers.
Trained rescuers.Perform chest compressions and give rescue breaths. Give 30 chest compressions followed by 2 rescue breaths.
Enrol in a training course with Ottawa First Aid today!