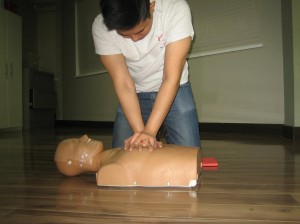 Learn to manage emergencies such as cardiac arrest, angina, stroke, heart attacks, hypothermia, heat stroke, seizures, poisonings, and more by enrolling in Ontario WSIB-approved first aid and CPR courses with Mississauga First Aid. This experienced training provider has been offering courses in Ontario for over a decade. It has professional, knowledgeable, and experienced teachers that offer a wide range of workplace-approved and safety courses at the lowest prices. Participants can register for courses such as standard first aid, workplace hazardous material information system (WHMIS) training, food safety, pet first aid, babysitting training, oxygen administration, basic life support, childcare first aid, CPR level "HCP" and many more. Public courses are available multiple times per week and some classes are also available online. Use the contact information posted below to find safety, food safety, or first aid class in Mississauga.
Contact Mississauga First Aid
To inquire about services or to register for a course with this WSIB-approved provider use the following contact information:
Email: info@firstaidcourses.ca
Telephone: 1-888-870-7002
Website: http://www.firstaidcprmississauga.ca
Registration can be completed online on the website. Customer service agents can help with registration or inquiries from 7 am to 6 pm 7 days per week.
More on Mississauga First Aid
Here are the top 5 reasons why you should register with this provider: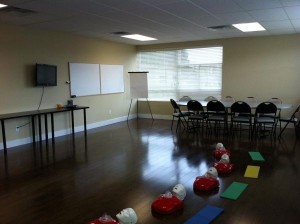 The prices offered by this provider are the cheapest / lowest in Mississauga. Prices are clearly shown with no hidden fees.
No other provider offers a larger selection of courses that are offered multiple times per week.
Private courses are available for classes of any size. Use the contact information posted above to book a private course
Certification provided through this provider meets Ontario WSIB requirements and is valid for 3 years
Instructors are experienced, knowledgeable and friendly.
Register today and see what this provider has to offer.
What Is the Course Content of an Ontario WSIB Approved First Aid Course?
A number of topics are covered in a two-day standard first aid course. Here are the main course topics covered in the class:
A lesson on adult CPR, with an adult training mannequin and a bag valve mask

CPR and AED rescue techniques

Recognition and management of circulatory and breathing emergencies
Management of injuries including broken bones, wounds, head injuries, sprains, hematoma, and strains
Recognition and management of sudden medical and environmental emergencies
Aiding with medications
Barrier Devices
Choking rescues
Legal implications of first aid and CPR
Administrative requirements of providing aid in the workplace.
Learn about these topics and more by enrolling in the two-day standard first aid, CPR, and AED course in Mississauga.
CPR-only training
CPR-only training is also available. Students have to choose from 1 of 3 categories for training: CPR A, CPR C, and CPR HCP.
CPR A – 4 hours, CPR and AED for adult victims
CPR C – 5 hours, CPR and AED for adult and pediatric victims
CPR HCP – health care providers, 6 hours, CPR and AED for adult and pediatric victims
Certification and recertification
Upon passing any of the workplace-approved programs, students are awarded a certificate card that expires after three years. Bigger certificates for wall-mounting can be requested from the provider staff. Remember to sign up for recertification programs before the certificate expires because Mississauga First Aid does not renew expired certifications.
Recertification for first aid certificates is available several times a week, 6-8 hours long, and includes CPR C recertification. CPR recertification is 4 hours long, available only for CPR C and HCP.
Start on first aid training with the introduction to the lessons below.
Did You Know?
Bladder stones
Diagnosing bladder stones is easy, especially after symptoms have already started to manifest. Common symptoms of bladder stones are dysuria – difficulty urinating, usually very painful – and retention. Stones can block any of the urinary tracts and can lead to chronic bladder dysfunction and urinary tract infections. Diagnostic procedures included:
Physical examination
Urinalysis
CT scan
KUB ultrasound
IV pyelogram