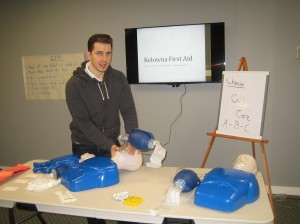 Would you know what to do if a co-worker or loved one was choking or having a diabetic emergency? Would you recognize a victim of hypoglycemia or a seizure? Learn to manage these minor and major emergencies by enrolling in first aid classes in Kelowna with Kelowna First Aid. This Okanagan Valley provider has been offering courses throughout the region including in Kamloops, Penticton and Osoyoos. Registration for programs like standard, occupational, emergency and childcare first aid and CPR can be done using the contact information posted below.
This provider also proudly offers food safe level 1, WHMIS, TDG and other safety programs. The most comprehensive course available, which includes CPR and AED training is standard first aid which requires participants to complete two days of training. WorkSafe BC approved occupational first aid level 1 courses are also available.
How To Register for a Course?
To register for a course you can complete the registration form on the bottom of the page or you can contact them using the following information:
Online registration available at the following website address: http://firstaidkelowna.ca
Telephone registration number: +1 250-277-1944
Email address: info@firstaidkelowna.ca
Training centre office:  301 – 1634 Harvey Ave, Kelowna, B.C. V1Y 6G2
Request for First Aid Classes in Kelowna
More Location Information
The main training office is located near down town Kelowna. Amenities include free parking, access via public transit and plenty of restaurants. View the map below for more location information.

View Larger Map
Choose Kelowna First Aid because…
It offers the largest selection of first aid, CPR, AED, WorkSafe BC, safety and food safe training courses at the cheapest rates. Enrolment fees are inclusive of taxes, certificates, and workplace approved registration fees.
CPR/AED training courses are offered in three levels: "A", "C", and "HCP". All levels are inclusive of AED training and certification.
Instructors are polite friendly and knowledgeable. Instructors have a minimum of 5 years of experience
A high volume of first aid and CPR courses are available throughout the week giving participants a wide range of registration options
On-line courses are available for programs such as Workplace Hazardous Material Information System (WHMIS), Transportation of Dangerous Goods (TDG) and Material Safety Data Sheets (MSDS) to name a few.
Registration is available through a variety of means including in-person, via email, on-line or telephone
Course fees are clearly shown on the website with no hidden fees or costs. Participants also receive a take home manual and certification immediately upon completion of the program.
Course Prices
Check out the following prices list of first aid and CPR classes in Kelowna, British Columbia with Kelowna First Aid
Standard first aid, CPR level "C" or "HCP" and AED – 144.99
Emergency first aid, CPR level "A", "C" or "HCP" and AED – 84.99
Standard childcare first aid, CPR level "B" and AED – 89.99
Re-certifications – from 48 to 74.99
Register for a course using the contact information above. More courses, information and details are available on the Kelowna First Aid website.
Did You Know?
Bandaging
In bandage wrapping, a circular role of bandage or cloth is firmly rolled around an injured area to support a dressing, prevent further bleeding, or immobilization.
 The bandage is rolled from the inner side to the outer side, from the farthest to nearest part.
The pressure should be uniform.
Each section of the bandage should be overlapped by at least half of the next turn or roll of bandage.
The bandage can be secured in a safety pin or tie.
Kelowna First Aid is dedicated to providing trainees with the best learning experience with highly qualified instructors. Choose a training course and enrol today!