Fact Checked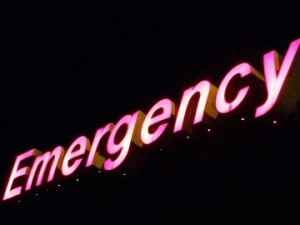 Patients in the emergency department have a wide variety of potential and existing health problems they perceived to be urgent. Victims rushed in the emergency department have varying health conditions which may be minor to life-threatening in nature which can suddenly change in a constant basis. An in-depth physical assessment is essential in order for the members of the emergency health care team to effectively manage and provide care for a patient's actual as well as perceived problem.
Emergency care in medical institutions can be a demanding task because of the diversity of the conditions and situations which presents highly individualized unique challenges both physically and mentally. Although victims of medical/disaster related conditions may have several diagnoses at a given time, the primary focus is always geared towards stabilizing and treating life-threatening conditions first; often both dependent and interdependent interventions by the emergency health care team.
Violence in the Emergency Department

Not only do staff and personnel in the Emergency department  encounter non-conforming patients/victims who are may be violent from substance abuse, injury or other stressful emergency situations, they may also encounter moderate confrontations to severe physical violent situations from patients themselves, family members and significant others.
Victims/patients and their families anxiously waiting for assistance and care are typically very stressed and are frequently emotionally unstable. Often, waiting rooms are the most common sites where feelings of anxiety, dissatisfaction, anger and fear are often channeled violently. Some Emergency departments employ security officers to areas where violence  is very likely to erupt. Therefore, staff and personnel in various emergency medical institutions are not only expected to be skilled in various medical emergencies but also in dealing with violent situations when necessary.
Safety for both the patients and healthcare providers in the emergency department is one of the priorities many medical institutions are concerned about. Protecting the Emergency department on a daily basis prevents untoward events which might result in intentional or unintended injuries caused by an outburst of emotions by the patient or by his/her significant others. Protection of the department curtails protection for all people inside the ED specifically for the patient, families and staff as well.
Metal detectors, silent alarm systems, and secured entry into the Emergency department assist is maintaining and bolstering the safety in the ED. Usually violence in the ED arises when patients who are affiliated with street gangs, feuding families and inmates from federal prisons are enter the ED. Hostility normally arises from verbal and non-verbal intimidation between patients with violent behavior and the staff.
Patients who are under guard is given the same assessment approach and care with restraints such as handcuffs. The following precautions are typically followed by several emergency medical institutions :
Never release the ankle or hand restraint when caring for the patient.
Always have security nearby or beside the patient when the need arises.
Place the patient's head down on the stretcher to avoid injury and unprovoked attacks such as head-butting, spitting and biting.
Only use restraints when the need arises or when the patient becomes extremely difficult to handle.